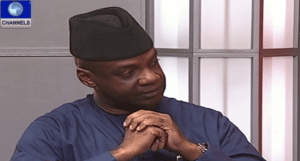 An international prosecutor with The Hague says the "execution denies a criminal a second chance if new forensic evidence shows the individual was innocent".
Giving his opinion on Friday about the execution of eight persons in Indonesia for drug trafficking, Mr Charles Adeogun-Philips told Channels Television that the grouse of the international community over the execution was based on the expectations that the Indonesian leader should have employed the prerogative of pardon, which he did not explore.
A Philippine woman was granted a stay of execution in the last minute, after new evidence emerged, showing her involvement was framed.
Mr Adeogun-Philips pointed out that if she had been executed before the emergence of new evidence, she would not have had a second chance, stressing the need for the law on execution of criminals to be revisited.
The execution of the eight had drawn condemnations, and the international prosecutor said the international community was at liberty to condemn acts that they consider contrary to international law.
"The Principles behind sentencing an offender of a crime is to Punish the offender, serve as some deterrent to stop people from committing the similar crime, to protect the public and to rehabilitate the offender.
"A major part of the purpose of punishment is to be able to rehabilitate. And in this case, then that defeats the argument as to whether or not having been born again or having been radicalised or whatever they have done in the prison.
"There is the last window for the Indonesian leader to pardon.
"The argument is that once a person has been executed, there is no second chance should a forensic evidence indicate that there is something else," he said.
However, the international prosecutor stressed that the decision was taken because Indonesia needed to send a message that drug trafficking would be discouraged at the highest level.
"Thirty-three Indonesians apparently die daily from the use of drugs.
"Executions are allowed under their laws.
"It is considered barbaric internationally to conduct executions, but once you step into Indonesia it is very clear that execution is the penalty for drugs trafficking," he said.
About 58 countries still practice the death penalty and the international community is pushing for the countries to sign on to international laws. But the right lies with the country whether or not to sign on to international laws.
He said that the execution case was carried out based on the domestic laws of the country because Indonesia had not signed on to international law about drug trafficking.