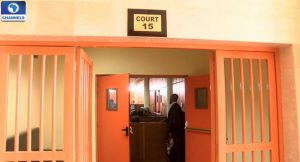 A High Court in Ede, Osun State has reversed its order to remand a former Vice Chancellor of the Obafemi Awolowo University Ile-Ife, Professor Anthony Elujoba, who is standing trial for alleged financial misappropriation, at the Ilesha Prison.
Professor Elujoba and the bursar of the school, Mrs Ronke Akeredolu are now to be further remanded in the Economic and Financial Crime Commission (EFCC) custody, where they have been since last Wednesday.
The presiding judge, Justice David Oladimeji also ordered that the ruling on the bail application earlier scheduled to hold next Wednesday July, 19, be brought forward to Friday, July 14.
The reversal of the orders came after several hours of agitation by students and staff of the institution, who had besieged the court premises demanding immediate release of Professor Elujoba.
Read Also: Ex-OAU VC's Arraignment: Wife Breaks Down In Tears
The students together with the staff had done everything possible to prevent the prison and EFCC officials from taking the accused persons to the Ilesha Prison, (from deflating the tires of their vehicles, to locking the judge, lawyers and every other person within the court premises inside).
The agitators who had defiled heavy presence of security operatives in the court grounded every activity in the area, leaving commuters plying the road stranded for the hours while the agitation lasted.