Former President, Olusegun Obasanjo is seeking divine intervention for President Goodluck Jonathan as Nigeria's number one citizen strives to move the country forward.
The former president was among the congregation that worshipped with President Jonathan and his wife Patience on Sunday at the Aso Villa Chapel in the Presidential Villa, Abuja.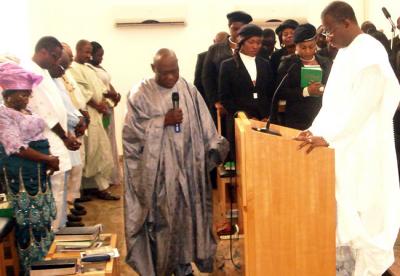 The prayer session, which was attended by the president, his family, his ministers and party members, saw Mr Obasanjo seeking the hand of God in the leadership of the country.
The former president was accompanied to the villa by two of his daughters, one of his sons, identified as Juwon and a businessman and the Chairman of Zenon Petroleum and Gas Company, Femi Otedola.
This is the first time the former president would be meeting face to face with President Jonathan this year.
There have been media reports of a crack in the relationship between both leaders and this was amplified when Mr Obasanjo failed to show up at the election of the chairman of the Peoples Democratic Party (PDP) board of trustees.
The president took a reading during the prayer session; thereafter he retired to his residence with Mr Obasanjo and others for lunch.
The former president left the villa on Sunday about mid-day.