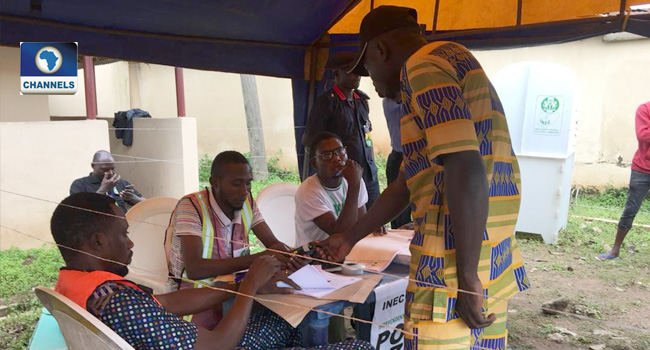 The Convener of the Civil Societies Elections Situation Room, Clement Nwankwo, says there were reports of vote buying in the Osun State governorship election.
Speaking to Channels Television on Saturday, Nwankwo regretted that despite efforts by the Independent National Electoral Commission (INEC) to curb the vote buying, the menace still persisted.
"There are still report of votes buying this time, maybe more discreetly," he said in Osogbo, the state capital.
Nwankwo also spoke about the restriction of movement in the state, suggesting that some observers had challenges moving around.
"We have few reports of disruptions in movement. It looks like the soldiers, not the policemen who are manning the different checking points are not able to allow people to move as freely as they should and, certainly, observers have presented reports of being disrupted by the soldiers," he said.
Nwankwo, however, commended INEC for the peaceful conduct of the exercise.
He hopes that the electoral body would consolidate on the positive start to the polls by ensuring that the collation of votes remains free and fair.
The election is seen by many, including election observers as a litmus test for the conduct of the 2019 general elections.
And Nwankwo wants INEC to make improvements in terms of logistics and security for the general elections.
"This is one state election. In the general elections, you will not be able to mobilise 30,000 to 40,000 policemen to a particular state. It will be restricted as the number of policemen in this country, which is still about three hundred and something thousand.
"That is not going to be able to provide this kind of coverage for the general elections. So I think that while this may be a test case in terms of INEC's logistics and ability to conduct a state election, it doesn't necessarily reflect in the general elections.
"INEC needs to know what lessons to take from this and how to interpret that into the larger context of the Nigerian general election."
Residents of Osun went to the polls to elect a successor for Governor Rauf Aregbesola.