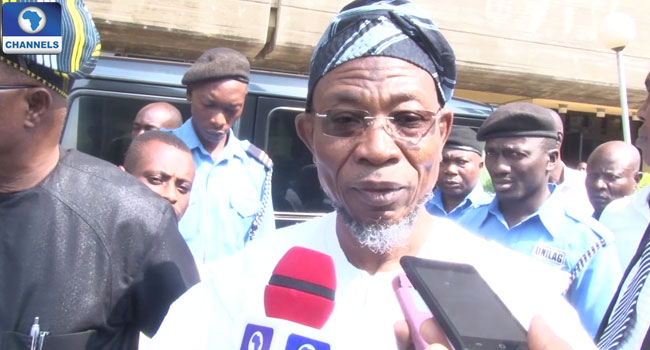 The Governor of Osun State, Ogbeni Rauf Aregbesola, has reaffirmed his administration's commitment to turning the state to a model of civilised administration in the country.
He said his government had not relented in its determination to achieve 25 years works within eight years.
Governor Aregbesola gave the assurance on Thursday while receiving the leadership of Methodist Church of Nigeria, at the Government House, Osogbo.
He said his administration had been working round the clock in reviving the state's economy and as well positioning the state among the most viable economies in Nigeria.
Aregbesola told reporters that his government, since inception in 2010, had been threading paths of economic reinvigoration, which according to him, helped to record unprecedented feats in the last six years.
Regaining Of "Hope"
He said the state under his leadership had succeeded in its designed policies of economic re-engineering and revitalisation aimed at achieving greater profitability, effectiveness and productivity.
Governor Aregbesola further claimed that his coming to the state was not in any way by accident but rather a clarion call to liberate the good people of the state from the shackles of backwardness.
The Governor, who described his emergence as the regaining of "hope" that had already been lost, said "coming to Osun has given birth to socio-economic prosperity and political stability".
According to him, the state government, having realised the economic potential of the state, decided to embark on people-oriented programmes that have positively affected the lives of the residents.
Affirming his belief on the efficacy of prayers, Governor Aregbesola attributed some of the achievements made by his government to unflinching supports received from religious leaders.
He called on other religious leaders in Nigeria to save the nation from its present economic situation.
Governor Aregbesola stressed that Nigeria had reached a climax where prayers and supplication were indispensable to facilitate quick survival.
"I am a product of prayers. I believe strongly in the efficacy of prayers. That is why our administration has been growing from strength to strength.
"As we all know, the present economic situation has challenged each and everyone on the need to move closer to God and as well support the country with prayers.
"We must all pray vehemently to rescue our nation out of the current socio-economic, religious, cultural and political unrest", he stressed.
Earlier, the Archbishop of Ilesa Arch-diocese of Methodist Church of Nigeria, Most Reverend Amos Akindeko, eulogised Governor Aregbesola for always placing God first in all he does.
Reverend Akindeko, who led other men of God in prayers, prayed God to continue to uphold the state and its people.