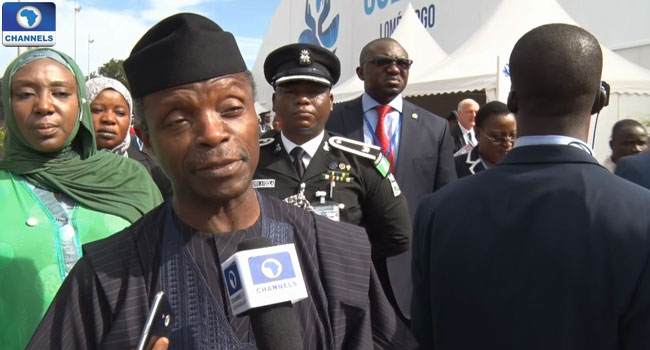 Efforts by the Federal Government to fast track the development of the Niger Delta appear to be in full swing, as it plans to site a $20 billion gas industrial park in the region through a public-private partnership.
This was made known on Monday by Nigeria's Acting President, Professor Yemi Osinbajo, during a meeting with a group of international investors and developers on the project at the Presidential Villa.
The consortium is made up of fortune 500 companies which include the GSE&C of South Korea, the China Development Bank, Power China and several other global operators from Asia and the United Arab Emirates in the Middle-East.
A statement from the Vice President's office explained that the project, tagged the Gas Revolution Industrial Park (GRIP), would be located in Ogidigben, Delta State, and is envisaged to be a regional hub for all gas-based industries.
According to the Acting President, the project would cover 2700 hectares with fertiliser, methanol, petrochemicals, and aluminium plants located in the park which has already been designated as a Tax Free Zone by the Federal Government.
He said the government "is committed to the development of the Niger Delta, and the importance of this project is underlined by the presidential attention it is attracting. The presidency is very interested".
We Are Unwavering
Professor Osinbajo added that the Federal Government takes the project very seriously, just as it is ready to make several other commitments to change the fortune of the oil-producing states.
"We already have a steering committee in place, chaired by the Honourable Minister of State for Petroleum Resources, Dr. Ibe Kachikwu, and that shows the level of our commitment. We are unwavering.
"We take the project very seriously and glad to see you are committed and ready to make several other commitments. This is a process that we intend to see happen," he said.
On his part, Dr. Kachikwu expressed confidence that the GRIP would bring the much needed succour to the people of the Niger Delta and the oil-producing states.
Speaking earlier, the leader of the group of investors and developers, Sheikh Mohamed Bayorh, stated the commitment of the consortium, stressing the importance of the project to solving the Niger Delta crisis.
The development comes against the backdrop of the recent visit by the Acting President to the oil-producing communities, to demonstrate the resolve of the President Muhammadu Buhari led administration to pursue a new vision for the Niger Delta.