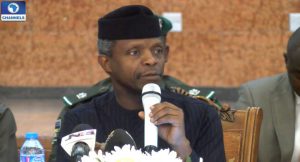 Vice President Yemi Osinbajo will be visiting a number of oil communities across some Niger Delta states starting on Monday, January 16, 2017, when he travels to Delta State.
According to a statement from the Office of the Vice President, Prof. Osinbajo would also be visiting Bayelsa and Rivers States at a later date to be announced soon.
Spokesperson for the Office of the Vice President, Laolu Akande, described the move as further demonstration of President Muhammadu Buhari's readiness and determination to comprehensively address the Niger Delta situation.
He stated: "At these visits, the Vice President will lead high-level delegations of the Federal Government that will interact with leaders and representatives of the oil-producing communities in continuation of ongoing outreach efforts of the Buhari administration towards a long lasting and permanent resolution of the Niger Delta crisis.
"The Buhari presidency is fully committed to having an effective dialogue and positive engagement that will end the crisis in the oil-producing areas, and believes that these visits would further boost the confidence necessary for the attainment of peace and prosperity in the areas and the Nigerian nation in general."