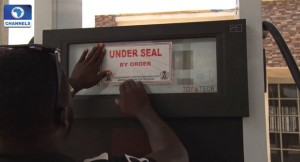 The Department of Petroleum Resources (DPR) has sealed five fuel stations in Makurdi, the Benue State capital for various forms of offenses such as hoarding, under dispensing and price fixing.
The exercise follows the refusal by independent marketers in Benue State to revert to the N86.50 control price which motorist describes as a good development.
While some of the fuel stations were forced to revert from selling at N140 to N86.50, five marketers who deliberately closed shop due to the control price enforcement exercise, had their premises sealed off.
After sealing five fuel stations across Makurdi metropolis, the DPR controller, Benjamin Ewuga, said that the price enforcement exercise would be carried out frequently.
The price enforcement exercise by the DPR received support from motorists and Okada riders who were seen celebrating the N86.50 price.