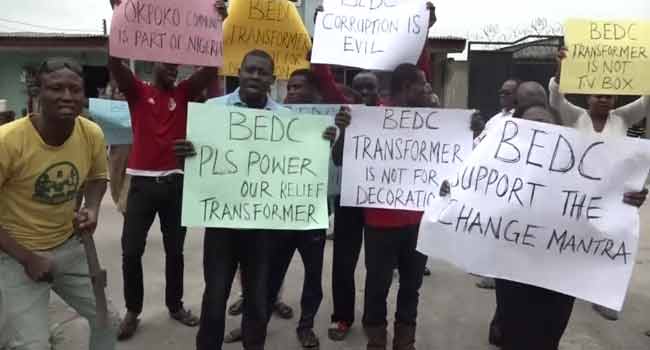 Residents of Okpoku community in Delta State have accused the Benin Electricity Distribution Company (BEDC) of denying them of power supply.
Despite the disclosure by the Federal Government that Nigeria currently generates about 7,000 megawatts of electricity, blackouts still loom in different parts of the country.
This indicates that there are challenges with the distribution of power to consumers and Okpoku is one of the communities still experiencing erratic power supply and, in most cases, a complete blackout.
The angry residents alleged that BEDC has refused to energise a relief transformer which they claimed was installed through communal efforts.
The community chairman, Mr Francis Osogolo, told Channels Television in an interview on Saturday that, "As I speak to you, there is no light in the entire community."
"This is what we have been experiencing for over two years which made the community to contribute to the transformer which has already been installed.
"All we have been asking BEDC to do for over two years now is to energise the transformer so that we can enjoy adequate power supply; BEDC has refused to energise it for no reason," he claimed.
Business owners operating around the area also counted their losses while others decried exorbitant estimated bills, asking the Federal Government to come to their aid.
"Bills are always overestimated and when one decides to adopt the digital billing system, we are forced to pay a ridiculous backlog," Osogolo added.
In its defence through its Corporate Affairs Officer, Mrs Esther Okolie, BEDC explained why the transformer was not connected.
Mrs Okolie insisted that the community must offset all outstanding bills on the pre-existing transformer before their request can be considered.
She said, "At the last meeting we held with them, the community was advised to try to offset the bill on the outstanding transformer currently feeding them power because after conducting what we call 'viability assessment' on the existing transformer that is feeding them, we discovered that they are owing so much.
"They have to reduce at least 70 per cent of that indebtedness before we can consider energising the relief transformer," the BEDC spokesperson noted.