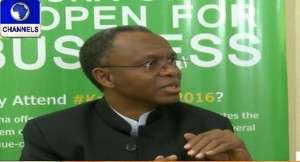 The just concluded maiden Kaduna State Economic and Investment Summit has started yielding result with the grounding breaking ceremony for the construction of the largest poultry factory in sub-saharan Africa being cited in the state.
The proposed factory is being constructed by Olams International, an agro-based company with branches in over 100 countries.
Speaking at the flagging off of the factory located in Chikun Local Government Area of the state, Governor Nasir El-Rufai, while explaining why investors should embrace business opportunities in the state, described Kaduna as the gateway to Northern Nigerian markets, with effective land management, raw materials availability, security, favourable tax policies among others.
The animal feed factory is said to be the largest in sub-saharan Africa when completed in the next 15 months.
It will comprise of an animal feed mill, poultry breeding farms and a hatchery to produce day-old chicks.
Governor El-Rufai, who performed the ground breaking ceremony said the project will create more jobs for the teeming unemployed youths.
He expressed belief that the return of vibrant economic activities and the reduction of poverty among the populace will drive prosperity and reduce the divisions that became pronounced as the state's economy entered dire straits from the late 1980s.
He also announce that in spite of the socio-economic challenges confronting the state, his administration has taking another significant step in advancing the agenda of job creation and improving the standard of living of the people of the State.
On his part, the Minister of Agriculture, Chief Audu Ogbeh, who was represented by a director in the ministry, commended Governor El-Rufai for the various economic programmes initiated by his administration.
He announced that President Buhari's diversification of economy from oil to Agriculture will remain the administration's top priority.
Also speaking, Olams Managing Director for Africa, Mr Venkataramanni Srivathsan, said the group's investment in hatchery would help boost the nation's poultry production and in the long run, help reduce the country's reliance on importation of poultry products.
He explained that the project is the largest investment by the company in Nigeria's domestic food and agricultural production sector after its wheat milling factory in Nasarawa state.
Many factories in Kaduna State have closed down over the years due to some emerging challenges ranging from unfavourable business environment to insecurity.
To address some of these problems, Governor El-Rufai promised to create an enabling environment and policies that will attract investors into the state for the purposes of creating millions of jobs.