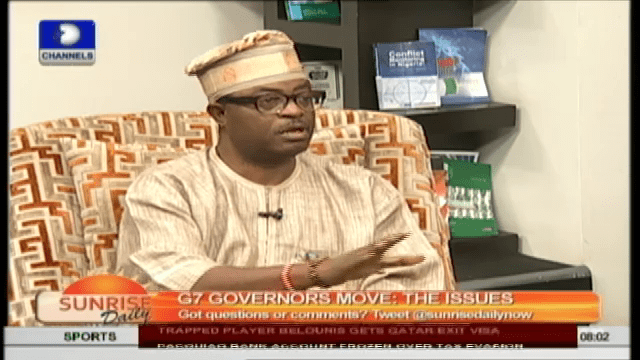 A member of the APC, Bisi Adegbuyi, on Thursday said that the alliance between some members of the nPDP and his party is the manifestation of a prediction by late political icon, Obafemi Awolowo who had said progressives in conservative parties will coalesce with the progressives.
Speaking on Channels Television's breakfast programme, Sunrise Daily, Adegbuyi lauded the move by the nPDP governors and said that this will strengthen the opposition in favour of the people.
"There can't be a democracy without opposition," he said.
Responding to critics who have said that the alliance is not worth celebrating because Nigerian politicians are all cut from the same fabric and there is no clear ideology guiding the parties, Adegbuyi said he bears no grudge with them.
He said that not everyone in PDP is bad, while not everyone in APC is a saint and added that the alliance will allow the people to have options to choose from, as opposed to one party dominating government.
If you must check the excesses of the ruling party and avoid a one party state, we must encourage the splinter groups to coalesce.
Asked if the alliance automatically makes the new member governors 'progressive' in nature, he said "Chief Obafemi Awolowo had predicted that at some point, the progressives in conservative parties (who are there for whatever reason known to them) and progressives will coalesce.
"I believe this is coming to pass," he said.
He defined a Progressive politician as one who "adheres strictly to the principles of federalism."
He stressed that Nigeria needs a constitutional framework which accommodates its multi ethnic, multi-cultural and multi religious features.
"PDP has been in government since 1999. Have they successfully removed one item from the 68 items in the exclusive list?" he asked.
Asked if APC states have adhered to the tenets of federalism, Mr Adegbuyi said that there are only two tiers of government in an ideal federal state.
"In other jurisdictions, you have a clearly defined sphere of governance between the Federal and the states in the constitution. Correspondingly, between the states and the Local Government, there must also be a constitution, which is lacking in Nigeria and that's where the problem lies."