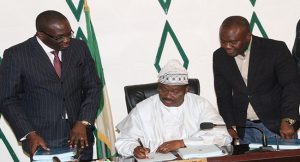 The Oyo state government has put in place an effective implementation strategy to ensure speedy and efficient performance of the 2017 budget which is believed to be self-reliant and less dependent on federal allocations.
The State Commissioner for Finance and Budget, Mr Abimbola Adekanbi, stated this while presenting an analysis of the 2017 budget proposal at the House Of Chiefs, Secretariat, Ibadan.
Mr Adekanbi said as soon as the state House Of Assembly passed the Appropriation Bill into law, the Ministry Of Finance and Budget would employ administrative monitoring and evaluation of the performance of the budget.
The commissioner noted that there would be harmonisation among relevant units of ministries, departments and agencies of the state on the budget, which would also involve external supervisors and consultants.
According to him, such measures are to ensure effective and efficient performance of the 2017 budget when eventually passed into law.
While breaking down the proposed budget, Mr Adekanbi said "an average of four billion Naira monthly, had been proposed by the board of internal revenue, while expectation from federation account was projected at an average of 4.9 billion Naira."
He added that "20 ministries, departments and agencies were listed as the topmost revenue generating avenues for the state government with the state Ministry of Lands, Housing and Urban development coming first with an estimated revenue of 40 Billion Naira".
Meanwhile, the state owned Broadcasting Corporation of Oyo state (BCOS), is expected to generate about 350 million Naira as the State Agricultural Development Programme (OYSADEP) is expected to rake in the least amount of 160 Million Naira in 2017.
The breakdown analysis of the budget proposal revealed that about 15 billion Naira would be expended on road networks in the state both for ongoing and new constructions, while the education sector would gulp about 4.8 Billion Naira for rehabilitation of schools, completion of model schools and establishment of a technology incubation center.
Furthermore, "trade and investments in the 2017 fiscal year will gulp about 341 million Naira for the construction of Neighborhood market, revitalization of the state Cooperative college and other trade related activities.
"Agriculture in the 2017 fiscal year will receive about three Billion Naira for the Agricultural Development Intervention to ensure food sustenance of the state.
"The Health sector will gulp about 2.8 billion Naira for the completion of the on-going renovation of the Ring road state Hospital Ibadan, quarterly procurement of essential drugs and surgical consumables as well as other health related projects" the Finance Commissioner stated.
The total sum of 2.4 billion Naira was also earmarked for lands Housing and Urban development as well as the re-opening of existing and new GRAs coupled with land acquisition and payment of compensation to those whose property were affected.
The budget analysis provided opportunity for interaction between the state government and economic stakeholders in the state, especially market women and labour leaders who are expected to be part of the sources for revenue generation.