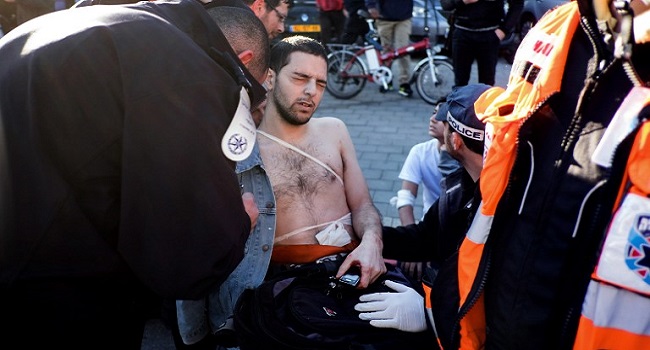 A Palestinian stabbed and wounded at least seven people on a Tel Aviv commuter bus during the morning rush hour on Wednesday before he was shot in the leg by a security officer as he fled, police and emergency services said.
Israeli authorities said the man was a 23-year-old from Tulkarm in the occupied West Bank, and had entered Israel without a work visa.
The incident occurred on Maariv bridge where the suspect attacked people both on and outside the bus, police said.
Police say they are treating the incident as a terrorist attack.
Three of the victims were in a serious condition, with four others in a moderate condition and three lightly wounded, according to the ambulance services.
"The terrorist had murder in his eyes," one passenger, identified only as Orly said on Israel Radio.
Also a prisons' service officer told army radio how the attack unfolded.
"We saw the bus swerve to the side… then stop at a green light," the officer, identified only as Benny, said.
"Suddenly we saw people running out of the bus and when we saw them shouting for help, we jumped out… and started running after the terrorist. At first we fired in the air, then at his legs."
As screaming passengers spilled out of the bus, prison officers in another vehicle at one of Tel Aviv's busiest intersections saw the suspected attacker trying to flee and gave chase.
"The terrorist stabbed the bus driver several times but the driver fought back until he [the suspect] fled on foot and was neutralised by a guard from the prisons' service," a police statement said.
A senior official with the Palestinian militant group Hamas, Izzat Risheq,  has praised the stabbing attack.
Late last year, a number of Israelis were killed in attacks by Palestinians using weapons including knives and even vehicles to run down pedestrians.