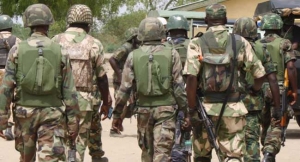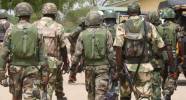 The Nigerian Army has rescued 195 captives, discovered a patent medicine outlet and also a major market operated by members of the Boko Haram sect at Gulumba in Borno State, northeast Nigeria.
The Army spokesman, Sani Usman, said that a number of insurgents were killed and a lot of items recovered during a raid carried out by troops of Seven Division Garrison, comprising the 112 Battalion and Armed Forces Special Forces on Wednesday.
The Army carried out the raid on suspected Boko Haram terrorists' locations at Kwaptara, Mijigete, Garin Boka, Mosole, Ngubdori, Ma'asa, Dukje and Gulumba in Dikwa and Bama Local Government Areas of the state.
Items recovered from the terrorists were military items – camouflage uniforms – rifle magazines and grenades – two logistic trucks, 180 motorcycles, 750 bicycles, 100 kva Mikano generator, grinding machine and various perishable materials.