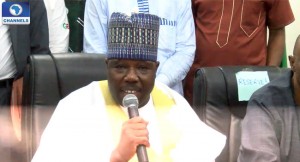 The factional Chairman of the Peoples Democratic Party (PDP), Sen Ali Modu Sheriff, has described the National Executive Council (NEC) meeting of the PDP which extended the tenure of the Makarfi-led Caretaker Committee by one year. 
He said, the said meeting was in breach of Section 31 (4) of the PDP Constitution, which makes the National Chairman the sole authority with a mandate to convene the NEC.
Sheriff said INEC has not been put on the mandatory three weeks' notice, neither has he as Chairman been put on one week notice, even if it was an emergency.
He also called on members of PDP to disregard everything that may have taken place in Port Harcourt, as everything purported to have been done was in gross violation of a court order.
He further maintained that the Caretaker Committee does not exist in law, therefore, "Makarfi should stop parading himself as a PDP official".
The PDP extended the tenure of the Ahmed Makarfi-led caretaker committee for one year after a vote of confidence was passed by national delegates at the party's secretariat in Port Harcourt, the River State capital.
The Nigerian Police had cordoned off the venue of the planned National Convention citing the ruling of a Federal High Court in Abuja on Tuesday barring the PDP from holding the convention.
Justice Okon Abang ruling in a motion filed by a factional chairman of the party, Ali-Modu Sheriff, also restrained the Inspector General of Police and the Independent National Electoral Commission (INEC) from supervising or monitoring the planned convention pending the determination of the substantive suit.
The Public Relations Officer of the Nigerian Police, Donald Amunah defended the action, maintaining that the that the police got conflicting orders and as a neutral body they have to take charge.
However, the party moved to their secretariat in Port Harcourt, held the convention and announced the extension of the Ahmed Makarfi-led Caretaker Committee by one year at the end of the exercise.