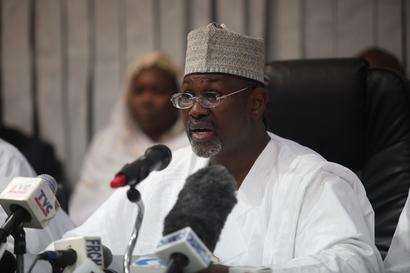 Professor Attahiru Jega, the Chairman of the Independent Electoral Commission (INEC) was reported to have escaped death yesterday in Jigawa while at the palace of Alhaji Najib Hussaini Adamu; the Emir of Kazaure.
Youths in the area staged an attack when the INEC boss was spotted coming out of the Emir's palace while attending the wedding of the Emir's daughter.
The mob started when a girl threw sand at the vehicle conveying the INEC boss and other youths followed chanting war songs, alleging betrayal on Jega's path and they descended on the convoy of the INEC Boss massively with stones causing damages to several cars in the convoy.
Security operatives swung into action to quell the mob attack as it was reported that it would have been worse than it was but for the quick intervention of the security operatives on ground.
It was reported that the move by the angry youths was in solidarity with the CPC presidential candidate, retired Major General Muhammadu Buhari as some of the youths in their dialect said Jega declared false results and cheated the Northern region with the results he announced as General Buhari was denied the chance of being the president of Nigeria and they felt it was unjust and they will not forgive the INEC Boss for this.
Meanwhile Muhammadu Buhari who was also billed to attend the wedding, came in moments after the attack and the former Major General's praise was sang by the youths, saying he is the answer to the socio-economic, political, religious and ethnic problems plaguing the country.