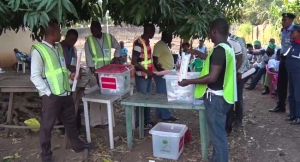 Ahead of the December 10 new date for the conclusion of the legislative election in Rivers state, an ex-militant leader, Ateke Tom has called for peaceful elections.
In a meeting with journalists in Okrika, he advised the Independent National Electoral Commission (INEC) to ensure that the polls are transparent.
"I want Rivers people to go out for a peaceful election so that there will be peace in the state. Whether you are APC or PDP, go out on that day and vote peacefully.
"Any party that wants to do rally can do their rally anywhere, nobody should disturb them. If they want to use my bedroom for their rally, I will give them my bedroom key after all before APC or PDP, there was Rivers state.
"No one should use my name to cover their failure if they have failed before, you are free to do your rally anywhere," he said.
There are fears that the tension that is already building up to the December 10 new date for the conclusion of the legislative rerun does not show good signs.
This is in view of the violence that greeted the 2015 general elections in the state and the March 19 legislative rerun in Rivers state which led to the cancellation of the exercise in some local government areas.
Ateke Tom's community in Okrika also experienced some violence during a political rally in the 2015 polls.