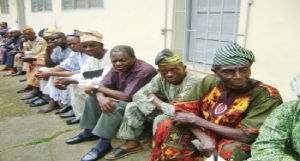 The federal government has revealed that it is set to kick-start the next phase of civil service Pensioners Verification and Biometric exercise in Bayelsa state.
This was contained in a statement signed by the Executive Secretary, Pension Transitional Arrangement Directorate, Barr Sharon Ikeazor.
The statement indicated that the verification exercise would take place in Yenagoa to cover pensioners for Bayelsa on January 16, 2017.
PTAD had earlier concluded verification of civil service pensioners from the North-West and South-East zones in the country in 2015.
As a follow up, pensioners in the North East states of Adamawa, Bauchi, Gombe and Taraba states were recently verified between November 28 and December 6, 2016.
"Apart from identifying ghost pensioners and putting a stop to fraudulent payments, the exercise facilitated the restoration of monthly pension payments to genuine pensioners previously removed from the payroll, including those who had never been paid any pension or gratuity.
"A total of 4,438 pensioners who were verified in the North West and South East who were hitherto not receiving their pension were rolled into November, 2016, and their pension and arrears paid."
The statement indicated that pensioners are expected to come along with the original and photocopies of their relevant retirement credentials for the upcoming exercise as will be published in national dailies and announced on television and radio.