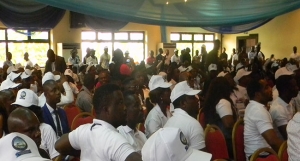 The Government of the People's Republic of China has revealed plans to partner with the Nnamdi Azikiwe University (UNIZIK), Awka to develop the institution in the areas of scholarships, culture, training programmes and investments.
The Director of China's Culture in Nigeria, Mr Yan Xiang Dong, disclosed this on Monday during the inauguration of the Chinese Cultural Research Centre of Nigeria at the university.
Speaking after a brief indoor meeting, Mr Dong expressed optimism on Nigeria's Bilateral Relations with China in which four agreements were signed by the President Muhammadu Buhari-led administration.
He said the development would attract a lot of investments into Nigeria and that the responsibility of his office in the partnership includes awards of scholarships and student-teacher training in culture and technology.
Receiving the Chinese delegation, the Vice Chancellor of UNIZIK, Professor Joseph Ahaneku, also expressed delight on the positive impact of the initiative.
He said the Centre would quench the thirst of many students who desire to learn the Chinese language and culture.
Professor Ahaneku added that the partnership would open up new vistas into the medicinal and culinary art of the Asian country which he said would promote healthy living.
The Confucius Institute, which is a non-profit Public Educational Organisation affiliated with the Chinese Ministry of Education, has been existing in the university since 2008.
The event concluded with the presentation of Certificates of Merit to 400 Confucius students who excelled in the Chinese language proficiency tests.