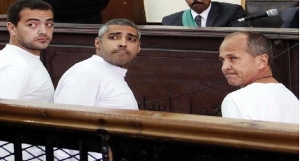 An Egyptian court sentenced three Al-Jazeera TV journalists to three years in prison on Saturday for operating without a press license and broadcasting material harmful to Egypt, a case that has stirred an international outcry.
The verdict in a retrial was issued against Mohamed Fahmy, a naturalized Canadian who has given up his Egyptian citizenship, Baher Mohamed, an Egyptian, and Peter Greste, an Australian who was deported in February.
The three were accused of aiding the banned Muslim Brotherhood group but they strenuously denied the allegations.
The three journalists were originally sentenced in July 2014, with Mr Greste and Mr Fahmy receiving seven years and Mr Mohamed getting 10 years.
But their convictions were overturned in January this year and they were freed in February to await retrial.
Rights advocates said their arrest was part of a crackdown on free speech since the Army overthrew President Mohamed Mursi, a senior Muslim Brotherhood figure, in July 2013 following mass unrest over his rule.
Judge Hassan Farid said the defendants, dubbed the "Marriott Cell" by the local press because they worked out of a hotel belonging to that chain, " they are not journalists and not members of the press syndicate" and broadcast with unlicensed equipment.
He handed three-year sentences to Mr Greste and Mr Fahmy but gave Mr Mohamed an additional six months.
The three men were originally sentenced to between seven to 10 years in prison on charges including spreading lies to help a terrorist organization, a reference to the Muslim Brotherhood which the military toppled from power two years ago.
The three defendants denied all charges, calling them absurd. Three other Egyptians, all students, also received three-year sentences for the same charges.
Speaking on Al-Jazeera in reaction to Saturday's verdict, Greste said he was shocked at the scale of the sentence. "Words really don't do justice," he said. "To be given a three-year sentence is outrageous. It is just devastating for me."
Fahmy and Mohamed, who had been released on bail in February after over a year in jail, were taken back into custody after the verdict.