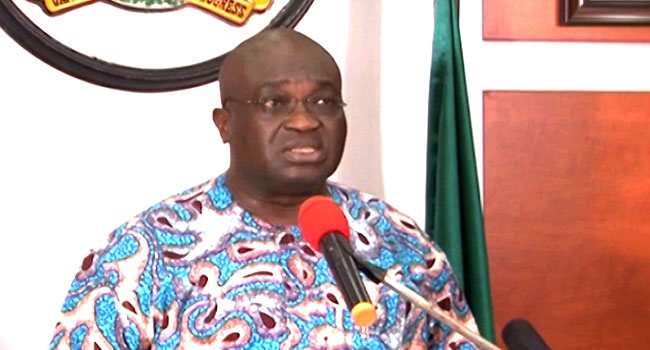 Abia State Government has warned independent marketers not to sell the Premium Motor Spirit, popularly known as petrol, above the official N145 price.
The state Commissioner for Petroleum, Mr Chizuru Kalu told marketers to henceforth strictly abide by the rules and regulation in dispersing their product to the masses.
He frowned at the level of impunity being practised by the filling stations and irregularities in adjusting their pump price to suit their business while the masses suffer in vain.
"Every station must sell at government approved pump price," he said while monitoring some filling stations on Thursday.
He added, "The state government can no longer condole the irregularities and adjustment in the prices and would not hesitate to sanction airing marketers and their filling station."
Mr Kalu also faulted the assertion blaming the unavailability of fuel on NNPC as alleged by some quarters.
He also reiterated the commitment of the Ikpeazu led administration not to allow the people of the state suffer.
To this regard, the commissioner directed the marketers to report the issues to the relevant authorities.
While admitting that the Aba depot was completely empty when the fuel scarcity started, he, however, gave the assurance that the Nigerian National Petroleum Corporation had worked out modalities in lifting fuel through the Port Harcourt refinery.
"As at the time this fuel crisis started, Aba-Osisioma depot had no product, the farm tanks were dry and they were not doing anything for two months.
"The State government saw the need to make the product available to Aba depot so that it can serve the people of Aba and Umuahia environs amongst others.
"I was detailed to proceed to NNPC Towers, Abuja, to meet with the authority to see what can be done.
"I am happy to announce that I actually meet with the executive director, NNPC commercial, who assured me that product will be lifted to Aba depot through Port Harcourt refinery.
"And on the twenty-fourth of December, we started loading PMS in Aba depot, the state ministry of petroleum has been monitoring the dispersing of this product and there is a task force on the ground."