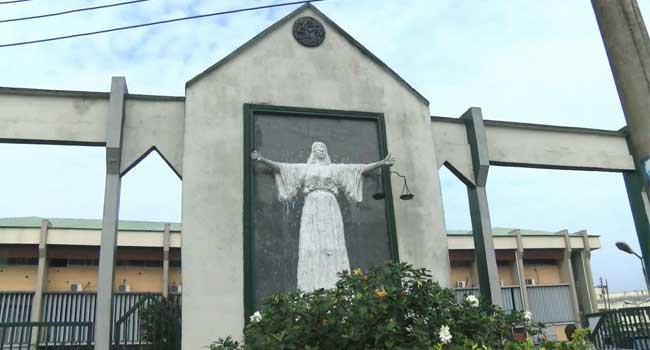 A Federal High Court sitting in Ado Ekiti, on Tuesday ordered the Speaker of Ekiti State House of Assembly, Kola Oluwawole to appear before it on Wednesday, December 7 and explain why he refused to obey the order to swear in legislator-elect, Mr Toyin Obayemi or face a contempt charge.
At Monday's proceeding, Justice Taiwo Taiwo ruled that the Speaker must comply with his order to inaugurate Obayemi as member representing Ado Ekiti Constituency 1, which was delivered on July 4, failing which appropriate steps will be taken to protect the integrity and powers of the court.
Obayemi is preferring a contempt charge against Oluwawole for disobeying the court order that he (Obayemi) be sworn in immediately as the legislator to replace Musa Arogundade who was removed by the Court and ordered to refund all salaries and allowances collected since June 5 when the Fifth Assembly was inaugurated.
The Court had annulled  Arogundade's election and ordered the Independent National Electoral Commission (INEC) to issue Obayemi a Certificate of Return holding that the latter was not validly nominated by the Peoples Democratic Party (PDP) for the April 11, 2015 House of Assembly election.
The Jurist maintained that the proper thing must be done and the court order complied with by the Speaker who he said must consult with his lawyer on the implication of disobeying court order.
"The Speaker must obey the order of this court, the proper things should be done. For the avoidance of doubt, the Speaker should consult with his counsel against the next adjourned date most especially as court record shows that he has been served.
"I will never be intimidated by anybody, somebody was here before. Even if I die the Bench lives on," he said.
He subsequently adjourned the case till December 7 for further hearing.
Earlier, the counsel to the Plaintiff, Mr Olayinka Sokoya, had told the court that he received a letter from the law chambers of a Senior Advocate, Mike Ozekhome, dated November 18, a day after the last day of sitting.
Sokoya explained that Ozekhome who is seeking to take over the defence of Oluwawole is praying the court for an adjournment of the case.