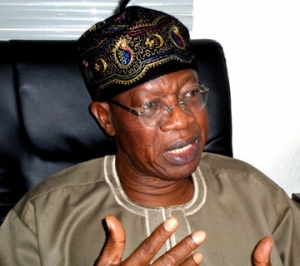 The Spokesman of the All Progressives Congress (APC), Lai Mohammed, was arrested by security agents in Osogbo, on the eve of the Osun governorship election.
In a statement issued in Osogbo on Friday night, his Personal Assistant, Mr Williams Adeleye, said that Mr Mohammed was arrested along with Mr Sunday Dare, who is the Media Aide to APC National Leader, Bola Tinubu, and the Deputy Chief of Staff to Ogun State Governor, Mr Salisu.
They were arrested Gestapo style by a team of soldiers and DSS agents while they were heading to the Government House less than 24 hours before the Osun election, and taken to an unknown destination in an unmarked truck.
However, in a telephone chat with Channels Television correspondent, who is in Osogbo to monitor the Osun election, Mr Mohammed confirmed that he had been released early on Saturday morning.
He said that he was taken to the office of the State Security Service alongside other arrested persons, including his driver, who was beaten up by the masked security agents before being released.
The arrest was the latest in a series of clampdown targeting opposition leaders and members ahead of Saturday's Osun election.