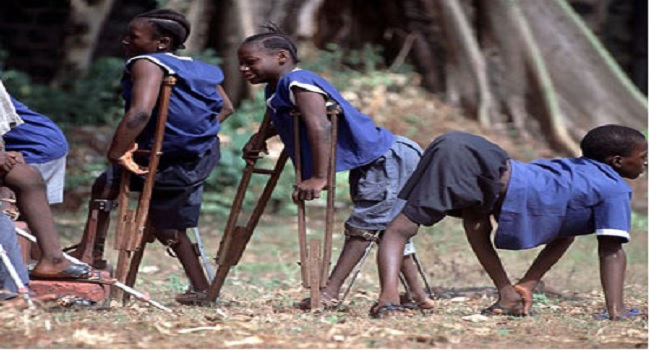 Nigeria on Friday, July 24, marked one year without a fresh case of polio infection.
Medical experts had, however, warned that only sustained and more stringent efforts would ensure appropriate interruption of polio and eventual eradication.
Despite the feat, a former Chief Executive of the National Programme on Immunisation, Dr Dere Awosika, said Nigeria had a future without polio but must keep an airtight vaccination and sustained systematic coordination.
Dr Ado Mohammed of the National Primary Health Care Development Agency, said that with zero case for one year, the next step would be to ensure coordinated efforts toward eradication.
The achievement was a result of various strategies, such as: routine and supplementary immunisation, surveillance and targeted mop up campaigns.
But experts said it was not yet time to celebrate.
The  polio endemic areas in Nigeria are: Yobe State, Bauchi State, Kano State and Borno State, which were identified as main flash points.
But officials of Polio Emergency Centres said it was history.
Nigeria is the first country to conduct a house to house immunisation for polio and is the only country yet to procure its vaccines from UNICEF.
An Expert said "if you don't immunise one child, you put 200 more children at risk".
But maintaining momentum in Nigeria is crucial for a polio free Africa and with the right political will, Nigeria would celebrate a future free of polio soon.
Polio is a crippling and potentially fatal infectious disease which  invades the brain and spinal cord to cause paralysis.
It has no cure but there are safe and effective vaccines which, when given to every child from birth till age five, can prevent infection and lead to eradication of the disease.
The programme on polio eradication commenced actively in Nigeria in 1998.  There were up to 800 cases of polio annually with little or no structure, system of operation or trained personnel to conduct the vaccinations.
In 2005, less than 10 years after, over 20 million children from 0-5 years were vaccinated yearly against the polio virus. As at 2014 only six cases were recorded across Nigeria.
It is the responsibility of the World Health Organization (WHO) to certify Nigeria as having uninterrupted polio and this can only be confirmed when two remaining samples in the lab which have undergone series of tests for months, are cleared as negative.
WHO, however,  gave Nigeria the clean bill towards interruption, three months ago.