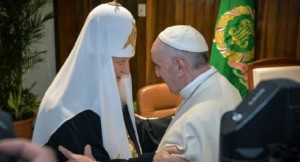 History has been made in Cuba where Pope Francis and the Russian orthodox, Patriarch Kirill, have held a first of its kind meeting.
At the talks which is the first between a Pope and a Russian church head since the western and eastern branches of Christianity split in the 11th century, both men called for Restored Christian Unity between the two churches.
In a joint declaration, they also urged the world to protect Christians from persecution in the middle east.
Patriarch Kirill has been the head of the Russian Orthodox Church since February 2009, while Pope Francis took up his role in March 2013.
The Roman Catholic Church has more than a billion members worldwide, while the Russian Orthodox Church numbers about 165 million.
The Russian Church is the largest and most powerful in the Orthodox faith, which is made up of a number of separate churches.
The encounter in Havana is not expected to lead to any immediate rapprochement between the Eastern and Western Churches.
Ahead of the meeting, the foreign policy Chief of the Russian Orthodox Church, Metropolitan Illarion, said there were still differences between the two churches, in particular on western Ukraine.
The Pope has now arrived in Mexico for a five-day visit. The country has the world's second largest catholic population.