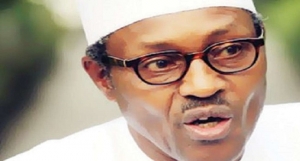 Nigeria's President, Muhhamadu Buhari, has held a closed door meeting with members of the National Working Committee of the All Progressives Congress (APC) led by the National Chairman of the party, Chief John Oyegun.
The meeting lasted for about 45 minutes when the National Chairman of the party had a session with the media.
Mr Oyegun said that they had come to felicitate with President Buhari and to pledge their loyalty and determination to work with him through thick and thin.
They assured the President that he can always depend on a party that he used as a platform to become the President of Nigeria.
Mr Oyegun noted that expectations are extremely high but that they are with President Buhari and would ensure that he succeeds as the President and Commander in Chief of the Federal Republic of Nigeria.
He admitted that all the problems will not be solved in one day but that Nigerians should rest assured that APC is on the right track towards dealing with the problems and frustrations of Nigerians.