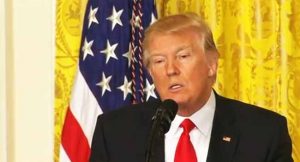 U.S. President, Donald Trump, has been asked to provide evidence to support his allegation that his predecessor ordered his phones to be tapped during the election campaign.
Republican Senator Ben Sasse, who made the call, described the allegation against former President Barack Obama as "serious".
However, President Trump who has been facing intense scrutiny over alleged Russian interference in support of his election campaign has supplied no details to back his words.
Mr Obama's spokesman, Kelvin Lewis, insisted that the former President never "ordered surveillance of any U.S. citizen".
Lewis said neither President Obama nor any White House official ever ordered surveillance on any citizen.
Under the U.S. law, wire-tapping can only be approved if there is probable cause to believe that the target of the surveillance is an agent of a foreign power.