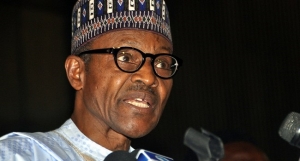 President Muhammadu Buhari has called on Nigerians to be patient and accept democracy not as a system of government but as a lifestyle in order to ensure development of the country.
The President said this when he paid homage to the Emir of Daura, Alhaji Umar Faruk Umar, after attending the Juma'at prayer at the Low Cost Housing Mosque in Daura, Katsina State.
The President, who delivered his speech in Hausa, urged those who were aggrieved after the 2015 elections to seek redress through democratic means and institutions, noting that Nigeria is adopting democracy from the western nations and learning fast by avoiding mistakes made when studying the weaknesses and strengths of those nations.
According to the President , if Nigerians decide to be hasty, some avoidable mistakes can be made, urging that elections at all levels must be conducted based on democratic principles.
President Buhari also urged those interested in elective positions to look for a political platform of their choice, declare their interests and the party would support them.
He said that in 2002 when he joined politics, many people did not give him a chance because they knew his antecedents as a military officer but added that the 2015 polls had clearly shown that it is God that chooses who becomes a leader.
President Buhari said that he decided to contest elections because of his commitment to serve the people and not to be served or to amass wealth.
He added that he had served the nation in different capacities in the past and had not had so much money in the banks either locally or abroad or anywhere in the world.
He said that all he had over time is "integrity and commitment to serve the people" adding that he would fulfil his promises to the people.
The Emir of Daura, Alhaji Umar Faruk Umar, had earlier said he had known Buhari for his consistency which had become the hallmark of his integrity.