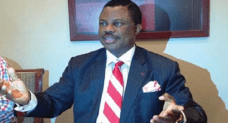 Anambra State Governor, Willie Obiano has called the overall performance of the card reader device in the State 'a disaster', noting that his fingerprints could not be captured despite several attempts.
"Well, it was in my opinion a disaster at the early stages", Obiano said during an interview on Channels Television's special election programme, Nigeria 2015.
He went further to explain that as at 10:30 on Saturday morning, INEC officials were absent at his Polling Unit,  while the queue was more than a quarter of a mile long.
According to the governor, INEC officials arrived at noon following a call to the REC, however, the card reader was not working.
"But before then, substantially everywhere, the comment I was getting was that the card reader wasn't working. As a matter of fact, I received so many calls that I got so worried," he said.
"I had to now call Professor Jega to say – Prof, this card is not working anywhere in Anambra. Prof said it is not true", Obiano said, noting that the INEC Chairman disagreed with his report, afterwhich he (Obiano) called President Goodluck Jonathan to "show my displeasure at what is going on".
However, the card readers eventually worked at about 2:00pm, Obiano disclosed, adding that his 10 fingerprints were not accepted by the device.
"We did it about three to four times, 10 fingers, it didn't go through. They now used the register", he said, also noting that he was not given an incidence form.
The governor also listed other issues recorded in the State including non availability of result sheets at some polling units as well as cases of thuggery.
Manual accreditation was eventually applied in the State.
Commenting on the extension of voting exercise till Sunday, Obiano advised the umpire body to learn from mistakes made to get more organised and ensure prompt arrival at polling units and better performance of the card readers.