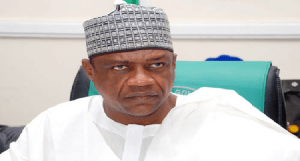 Governor Ibrahim Gaidam has expressed satisfaction with the conduct of the Presidential election.
Following reports from Damaturu, the Yobe State capital, the Governor said that election in the state went on smoothly despite initial fear of security in the troubled north east geopolitical zone of the country.
With successes recorded during accreditation and subsequent voting in the state, the Yobe State Governor praised INEC, security agencies and other stakeholders for the success of the exercise in the state.
Speaking to Journalists after casting his vote at Bukarti town in Yunusari Local Government Area of the state, Governor Gaidam expressed satisfaction with the performance of the card reader in spite of the much anticipated fear of the new technology being introduced into the nation's electoral process.
Governor Ibrahim Gaidam, who commended the people of the state for their efforts towards giving peace a chance, hoped similar cooperation would be maintained during the governorship and House of Assembly elections.