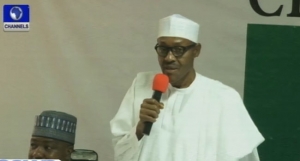 President Muhammadu Buhari has assured Nigerians, especially those resident in the northeast that the Federal Government will defend the right to freedom of worship.
He made this statement while reacting to the latest attack by the Boko Haram terrorist group at a Redeemed Church in Potiskum, Yobe State, that claimed six lives.
According to a statement by the Special Adviser to the President on Media and Publicity, Mr Femi Adesina, Buhari believes terrorists who deliberately attack places of worship, "have willfully declared war on all that we value".
The statement reads: "President Muhammadu Buhari has received with sadness, news of the dastardly bomb attack at a church on the outskirts of Potiskum, Yobe State earlier today (Sunday).
"President Buhari deeply regrets the unfortunate loss of lives in the attack and commiserates with all those who lost loved ones in the incident which also caused needless injury to others and damage to the church building.
"The President wholly condemns the resumption of attacks by terrorists on places of worship which are highly revered places of prayer and communion with God for most Nigerians.
"Nigerians are a very religious people and President Buhari believes that the terrorists who wantonly attack our places of worship have willfully declared war on all that we value, and must therefore be confronted with all our might and collective resolve.
"The President reaffirms his administration's total commitment to doing everything possible to eradicate Boko Haram, terrorism and mindless extremism from Nigeria in the shortest possible time.
"President Buhari assures all Nigerians that terrorism will ultimately be defeated and full security restored in all parts of the country for people to safely practice their respective faiths with liberty wherever they may reside in the nation.
"The Constitution gives all Nigerians that right and the present Administration will deploy all required force and resources to protect citizens' right to freedom of worship.