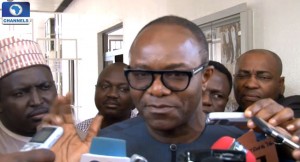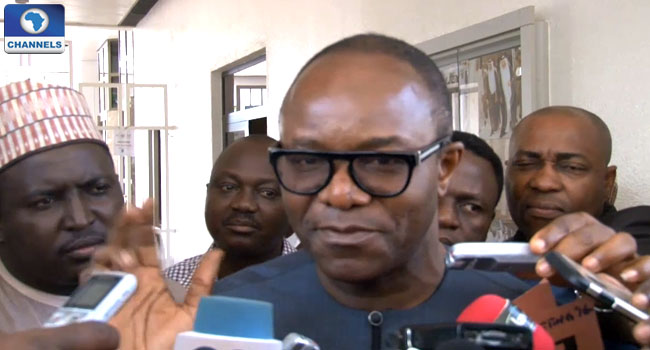 The Minister of State for Petroleum, Dr. Ibe Kachukwu, has commended the decision by the federal government to opt for dialogue in ending the Niger Delta violence.
Dr. Kachikwu made this remark during a visit to the Governor of Bayelsa State, Seriake Dickson, in the company of the Special Adviser to the President on Niger Delta Affairs and coordinator of the Amnesty Programme, Major General Paul Boroh (Rtd).
The Minister told journalists after a closed-door meeting with the Governor that he was in Bayelsa State to listen, and learn from major players and find a lasting solution to the issues surrounding pipeline vandalism.
The meeting which was held in government house Yenagoa, is said to be the beginning of a long process that will lay the foundation for a major peace initiative in the Niger Delta.
Major General Boroh revealed that the dialogue process with militants and other stakeholders have begun producing desirable results.
Governor Dickson while commending the President on his stance for dialogue advised that the process of peace building and conflict resolution should not be politicized.
Regarding the allocation of oil wells, the Minister revealed that this will be attended to in the last quarter of the year.
"The President has not focused on the allocation of oil blocs because we think there are more fundamental issues to deal with. We first have to stabilize the sector (and) we are doing a lot of work on that.
"Over the next couple of months, I think more towards the last quarter of this year, then we will focus on looking at bloc opportunities and at that time we will be able to address what we need to do in terms of that resource.
"I hear loud and clear the call within the Niger Delta community that there is a very urgent need in those allocations to ensure that opportunities get either to state governments or to citizens in the areas where oil is being produced.
"I'm sure that is an area that the President is listening to very carefully and we are going to be working with that," Dr. Kachikwu said.