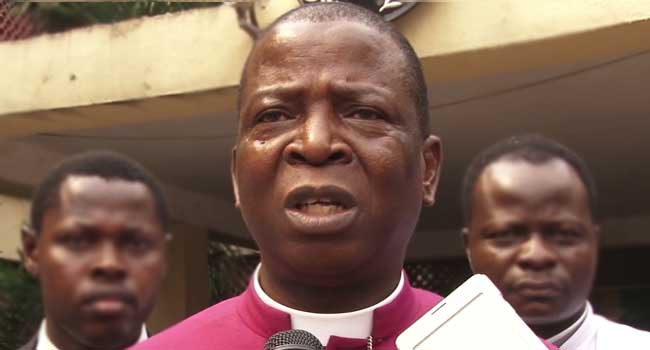 The Primate of the Anglican Church in Nigeria, Most Reverend Nicholas Okoh, has condemned the recent attacks on the nation's oil pipeline by the Niger Delta Avengers.
Most Reverend Okoh spoke on Friday at the 2016 Synod of the Church held in Abuja.
Further condemning the situation with huge potential of affecting the nation's revenue that largely depends on crude sales, he, however, called for a ceasefire by the agitators in the interest of national development.
The Primate also urged the Federal Government to collaborate with host communities to secure oil pipelines.
"Nigeria is fighting too many battles at this time," Most Reverend Okoh said.
His condemnation of the attack on pipelines came a day after a gas pipeline operated by the Nigerian National Petroleum Corporation in the region was attacked.
A spokesman for a local community group and a witness in Niger Delta region confirmed the attack to Reuters new agency.
The group, Niger Delta Avengers, has claimed some of the attacks on some pipelines on the region.
The attacks have affected the crude oil production of the nation at a period of volatile oil price, with a drop below 1.6 million barrels per day.
The attacks had forced U.S. oil major, Exxon Mobil Corp, to suspend exports from Nigeria's top crude stream.
Days before the company suspended exports, militants attacked a Chevron platform.
After the attack, Chevron Nigeria Limited shut its Okan offshore facility, with resources deployed to respond to a resulting spill.