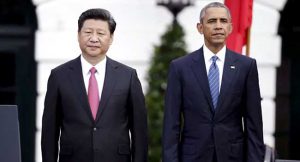 The United States and China have officially ratified the Paris agreement to curb climate-warming discharges.
The world's two biggest economies confirmed this on Saturday, saying the ratification could help put the pact into force before the end of the year.
UN Secretary-General, Mr Ban Ki-moon, who is in China to witness the declaration, received the plan to join the agreement from American President, Mr Barack Obama and his Chinese counterpart, President Xi Jinping.
A senior adviser to President Obama, Brian Deese, observed that the joint announcement should push other countries to formally join the deal.
"The signal of the two large emitters taking this step together and taking it early, far earlier than people had anticipated a year ago, should give confidence to the global communities and to other countries that are working on their climate change plans, that they too can move quickly and will be part of a global effort," Reuters quoted Deese as saying.
Obama's aide hinted that the US President was expected to meet the Prime Minister of India, Narendra Modi, on the sidelines of a Group of 20 nations meeting in Hangzhou, China, this weekend.