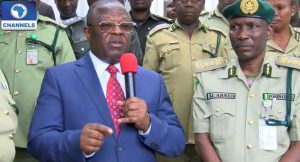 The Nigerian Prisons service has confirmed that six inmates were killed and 10 wounded during Thursday's attempted jail break by inmates at the Abakaliki Prisons in Ebonyi State.
The Comptroller General of the Nigerian Prisons Service, Ja'afaru Ahmed, gave the figure in Abakaliki the Ebonyi State's capital when he visited the prisons on an on the spot assessment of the unfortunate incident.
The Comptroller General, who also visited the Ebonyi State Governor, Dave Umahi, at the Government House said he had set up a three-man committee to investigate the true cause of the incident.
He said that the investigation would enable the government know the proper steps to take to prevent further occurrence.
After a one-hour closed-door meeting with the Governor, the duo came out to address reporters.
The Comptroller General confirmed the number of inmates that died during the unfortunate incidence while disclosing that he has set up a three-man committee to look into the actual cause of the incidence.
He further urged the criminal justice system of Nigeria to look into prison decongestion, as many of the inmates had been awaiting trial for a long time.
This situation, according to him, has increased the number of inmates that were originally designed for accommodation in the prisons.
In his response, the Ebonyi State Governor, who had earlier visited the Abakaliki Prisons, commended the leadership of the Nigerian Prisons for their quick response and expressed displeasure over the infrastructural state of the Abakaliki Prisons which made him declare a state of emergency on the prisons.
He said even though the state government would help solve some of its infrastructure challenges, the Federal Government would need to move in immediately and address the challenges of infrastructure and welfare in the Abakaliki Prisons for both inmates and prisons' officials.
Meanwhile, the Ebonyi State Police Command has asked all citizens of the state to remain calm and law abiding and go about their normal duties, as all measures were in place to ensure that there was no breakdown of law and order in the state.
In the meantime, security has been beefed up in the prisons and its environs and one of the major doors damaged by the inmates has being repaired.