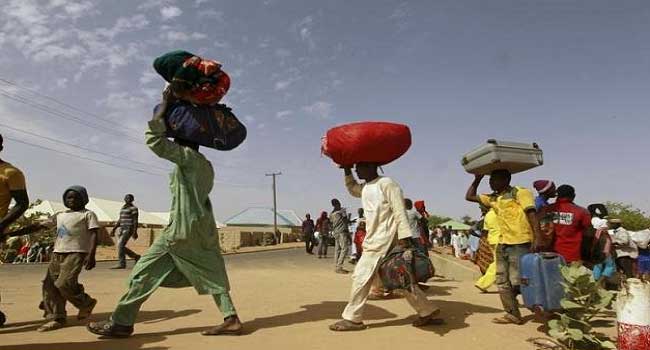 The newly inaugurated Presidential Committee on the Northeast Initiative has commenced operations in Borno state with one of its mandates being to help returning Internally Displaced Persons (IDPs) settle in their home towns.
Konduga Local Government where no fewer than 20,000 persons have already returned is one of the first beneficiaries of the intervention.
Konduga, about 40 kilometers to Maiduguri is one of the Borno towns notorious as a battle ground between the military and the outlawed Boko Haram.
Residents caught up in the crossfire were evacuated to Internally Displaced People's camps in the capital city.
Three years later, with the assailants pushed out of the ancient town, villagers weary of living in makeshift camps are returning home in droves as explained by government officials.
An official of Konduga LG, Bello Musa said: "Presently we have over 20,000 people in this town since when the Governor flagged off the campaign of returning our people to their communities.
"I think on the first day 7.000 people came here. Almost 85% of these people are living in their houses. It's only 15% that are living in the camp.
"Since our return, the governor of Borno state has been providing food, NEMA too and some organizations are coming in now…from last week we received three or four NGOS that are here to assist our people."
Meanwhile, survival for the returning IDPS is for the fittest, with the young, old and widowed scrambling for a portion of food anytime help comes.
With no source of livelihood, only security presence can stop a stampede anytime there is food to be shared.
One of the returnees, A'isa Mala, lamented the tough conditions they have had to deal with.
"Our children go to the bush to get local vegetables which they sell, and buy flour for our meals. Some days we go without food, six of us in the house. When they bring food we eat, when they don't we sleep without food.
"If I join the queue they'll kill me in a stampede so I stay here; anything I get from here will be fine, money or food."
In the pilot relief items distribution, the Presidential Committee on the Northeast Initiative is targeting 1,800 Konduga families, according to the sub Committee team leader, Prof Hauwa Biu.
"This committee is a sub Committee and our mandate is to go round Adamawa, Borno and Yobe states to assist those who have returned home after the insurgency as well as those that are in the camp.
"So we are here specifically to distribute items which have been kept for a long time. For now we are in three different towns; Mafa, Konduga and Damboa simultaneously; what we're doing here is replicated in the two other places."
The Committee's mandate is expected to span through a period of three years.