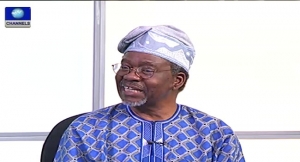 A Professor of International Law and Jurisprudence, Professor Akin Oyebode on Wednesday gave his opinion about the choices of Ministers and portfolios given to them by President Muhammadu Buhari.
He says the list of Ministers looks like a 'mix bag'.
"You have some very brilliant and interesting people, with tremendous antecedents and some a little bit less so. I have a feeling that we have a bitter-sweet experience with the ministers that have just been appointed, especially in relation to the portfolios assigned," Professor Oyebode said.
On the reduced number of ministries, he said that the government had taken the decision as a deliberate attempt to save funds.
"Enforcing The Slimming Diet"
According to him, the decision was in line with the manifesto of the ruling All Progressives Congress during the campaigns that brought President Buhari in.
"The focus of the government is diversification of the economy so that we will not continue to rely on petroleum products. So, we have to look into other areas like solid minerals and agriculture.
"I suppose that these are the things that informed the President in streamlining and enforcing the slimming diet on the Nigerian bureaucracy," he said.
The Professor of Law said that the choice of Mr Babatunde Fashola, was not a wrong one, as he [Fashola] had "in the last eight years handled things that are involved in the type of responsibilities that Buhari has trust unto him".
"When you put somebody in charge of Power, Housing and Works, that is a mega ministry. Fashola did a lot in Lagos State in terms of transformation and I think President Buhari wants to exploit his antecedents and track records as a miracle worker. I think it is a challenge that Fashola will rise up to, Professor Oyebode explained.
"Tail Wagging The Dog"
On the choice of the Minister of Education and the Minister of State for Education, he said it was a tragedy, insisting that a professor, who had ran, a university should not be a sidekick to an accountant turned communist.
"It can only happen in a country like this," he said, further insisting that Tony Anwuka deserved more than being a Minister of State for Education.
President Buhari had named Mr Adamu Adamu the Minister of Education and Mr Anwuka the Minister of States for Education.
But Professor Oyebode was of the opinion that Mr Adamu had no experience in the education sector.
"The core competency is missing from Adamu Adamu and that is why I call it a case of the tail wagging the dog."
On the choice of the Minister of Finance, Professor Oyebode was pessimistic that Kemi Adeosun, who was made the Minister of Finance, could handle the Nigerian economy.
He insisted that experts in the field could have been a better choice and envisaged a review of the cabinet, which he said was not far-fetched.