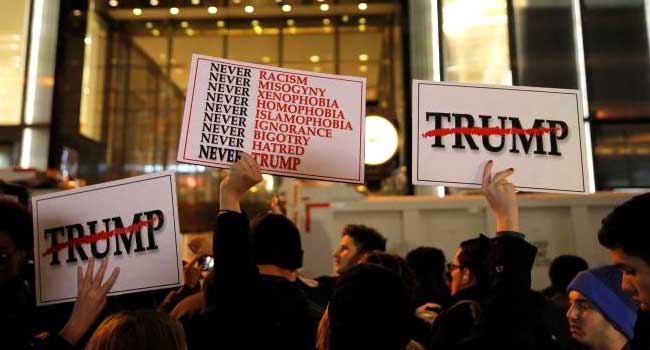 Thousands have remained unhappy with president-elect Donald Trump's victory in the U.S presidential elections, and have continued to take to the streets of major cities, in a third day of more violent protests.
Following Wednesday's election results, the protesters had since begun protesting across the cities of Miami, Atlanta, Philadelphia, New York, San Francisco, while smashing windows and starting up fires as a way of expressing their frustration.
While protests were also ongoing in Portland, a male protester was shot, voicing anger at Trump's controversial campaign rhetoric about immigrants, Muslims and women.
The unidentified man was wounded on Portland's Morrison Bridge in the early hours of the morning, as he and other protesters crossed it during a demonstration.
Other small protests were held in, Minneapolis, Kansas City, Detroit, Missouri; Olympia, Washington DC, and Iowa City.
Earlier in the night, protesters blocked traffic and threw objects at Portland police, dressed in riot gear who responded with pepper spray and flash-bang devices.
The aggrieved protesters carried placards with various inscriptions such as "Not my president", "Americans against hate and bigotry", "no human being is illegal" among many others.
Reports said at some point, police pushed protesters back and appeared to take at least one person into custody.
On wednesday November 9, Donald Trump emerged as winner of the U.S presidential elections 2016.
He defeated his democratic party Rival, Hillary Clinton, with a vote count of 289 – 218.
In his victory speech, he promised to be the "president for all Americans" and urged all Americans to come together in unity.
This came with much criticism, as many failed to buy into the inklin of the sudden 'changed persona' of Mr Trump, after he had made various obnoxious statements all through his campaign trail.
Also in his speech, he praised Mrs Clinton, saying "she fought very hard".
In Mrs Clinton's concession speech however, she told all Americans to put aside their differences and support the new President-elect, in bringing about sustainable development and unity in the country.
Outgoing President, Barack Obama, who also admitted he had major differences with Trump, called on Americans to support the new leader regardless.
He said "we Are All Rooting For Trump's Success"
U.S President-elect, Mr Donald Trump, says he will soon be making 'very
important decision on persons that will be in his cabinet.
Mr Trump announced the plan on Friday, via his Twitter handle.