Movements of refugee returnees from the Republic of Cameroon have continued en-route Banki through Pulka towns of Borno State in North-East Nigeria.
So far, over 5,000 persons have returned to Pulka, their ancestral town which is one of the seven wards in Gwoza Local Government Area of the state while many others are still being expected.
Humanitarian groups operating in Borno State have also continued to provide life-saving assistance to the returnees and other displaced persons already living in the town.
Thousands of residents were forced out of their homes by the Boko Haram insurgents in 2014 when they seized Gwoza, declaring it one of their caliphates.
While some of the locals escaped to the mountains, some others in their thousands crossed the border to neighbouring Cameroon where they found shelter.
In one of the camps visited by Channels Television crew, one of the displaced persons Maimuna Mohammed, who was kidnapped twice by the insurgents, said she was lucky to have escaped twice as many others from her town were still in captivity.
"God brought soldiers to the room where we were locked and when they chased out our abductors, they freed us and we ran after them and came back home," she said.
The latest arrivals in Pulka are those who fled to Cameroon, bringing the number of displaced persons in Pulka town to about 24,000 as they depend on handouts from humanitarian groups to survive, having lost their homes and possessions to the insurgency.
Another returnee, Theresa Bitrus, said: "We contributed money and paid for our transport fare from Cameroon to Banki and from there, the government conveyed us to Pulka. The truth is right now we cannot go to our farms in the bushes, we are just here waiting for whatever they offer us, there are still many Boko Haram around our farms".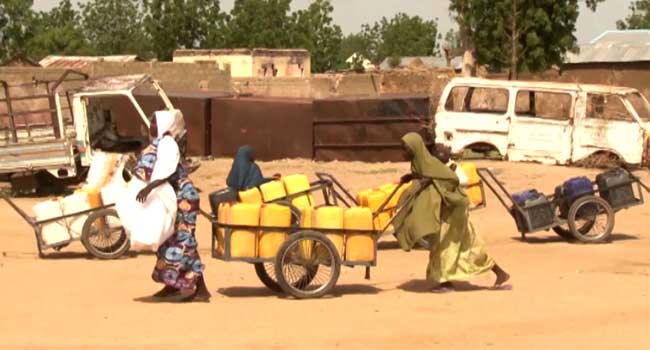 The World Food Programme has been providing food items to the affected population in Pulka since October 2016 when the displaced persons began to return home.
According to an official of the agency, Emmanuel Osemeka, over 60,000 people were registered under the free feeding providing, including returnees living in their personal homes and the homeless in camps.