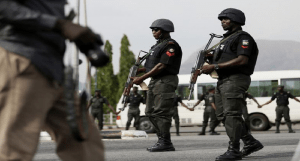 The Oyo State Police Command has arrested some fraudsters cum ritualists in their hideout situated in Ona Ara Local Government Area of the state.
The Special Ambush Squad alongside the Anti-kidnapping Squad which was led by the Commissioner of Police, Mohammed Katsina, succeeded in making the arrests without bloodshed.
One of the suspects, Ismael Adesina, a 42-year-old man who was arrested at the scene of crime, confessed to duping people for over five years in a compound set in the thick jungles of Isase after Badeku community in Ona Ara LG.
Fake foreign currencies, charms, machetes and other criminal items were also recovered from the den which looked more like a ritualist haven.
Channels Television crew were able to take shots from a safe distance where the squad took positions to smoke out the suspects.
The traditional head of the Isase village where the shrine is located expressed shock at the discovery and promised that the community would ensure the demolition of the place.
Meanwhile, Mr Katsina has said that his command will not relent in efforts to wipe out crime, adding that the intelligence led operations of his special squad made the arrests possible just before they committed another crime.