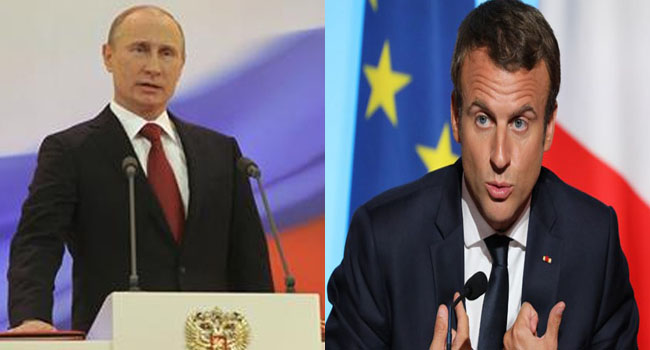 Russian President, Vladimir Putin and his French counterpart, Emmanuel Macron agreed in a phone call on Friday that resuming direct talks with North Korea is the only way to resolve tensions over its nuclear programme.
In a statement, the Kremlin said the two leaders "were united in the opinion that it was unacceptable to allow an escalation in tension".
The crisis needs to be resolved "exclusively through political and diplomatic means, by restarting direct negotiations," they said.
Both Putin and Macron "decisively condemned the provocative" firing by North Korea of a ballistic missile Friday over Japan and into the Pacific, the statement said.
Macron's office said the two leaders "underscored the importance of Russia's role in this crisis for a united and strong response by the international community".
The latest launch came days after the UN slapped new sanctions on Pyongyang following its sixth nuclear test earlier this month.
The Kremlin statement said that during Putin's discussion with Macron "it was underlined that an adequate response to Pyongyang's irresponsible steps was taken" by the UN.
French foreign ministry spokeswoman Agnes Romatet-Espagne stressed the importance of sanctions against North Korea.
"In the face of this threat, France is ready to work, notably within the UN Security Council and the European Union, to strengthen measures aimed at convincing the Pyongyang regime that it has no interest in escalation, and to bring it to the negotiating table," she said.
European Union diplomatic chief Federica Mogherini condemned the missile launch as an "outrageous provocation" and also vowed to step up sanctions on the rogue regime.
The EU will implement the latest UN measures against individuals and organisations on Friday, Mogherini said, and press on with efforts already under way to extend the bloc's own sanction regime.
"Our work will be accelerated even more by this latest launch," she said.
Russia backed the new sanctions against North Korea on Monday, banning it from trading in textiles and restricting oil imports.
But Moscow refused to support tougher measures like an oil embargo and Washington had to soften its stance in order to secure the support of Russia and China, the North's strongest backers.
The United States called on China and Russia to take "direct actions" to rein in North Korea after it fired the missile.
"China supplies North Korea with most of its oil. Russia is the largest employer of North Korean forced labour," Secretary of State Rex Tillerson said in a statement.
AFP