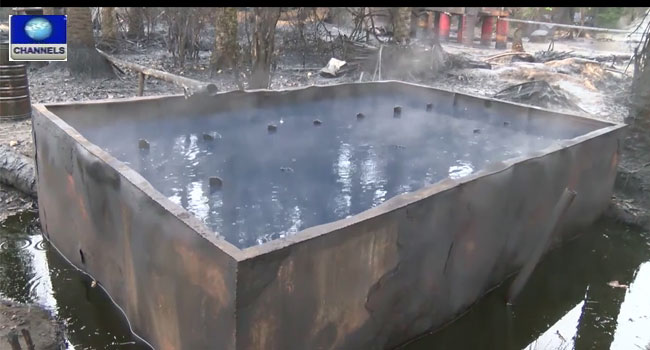 The Nigerian Navy has arrested 11 crew members of a vessel, MT Camille, laden with about 4,000 metric tonnes of suspected stolen crude oil at Forcados in Delta State.
Briefing reporters on Friday, the Flag Officer Commanding the Central Naval Command, Rear Admiral Suleiman Apochi, reiterated that the Navy had zero tolerance for illegal oil bunkering.
According to him the arrest was made in continuation of the resolve to curtail crude oil theft in the maritime environment in the region where most of the nation's crude is mined.
He said that preliminary investigations were ongoing and that the Nigerian navy had employed new technologies to curb activities of oil pipeline vandals.
Crude oil theft further depletes Nigeria's revenue from crude oil in the face of dropped crude oil price.
Nigeria depends largely on crude oil for its revenue, having drifted away from agriculture which was the nation's economic mainstay before the discovery of crude oil.
The government is, however, making efforts to diversify the economy, with focus returning to agriculture and untapped huge solid minerals.