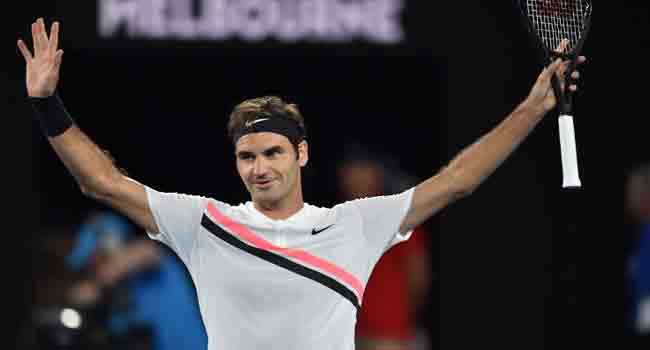 Defending champion Roger Federer continued his dominance over Richard Gasquet to reach the round of 16 at the Australian Open on Saturday and keep his quest for a 20th Grand Slam title on track.
The Swiss star beat the Frenchman 6-2, 7-5, 6-4 in just under two hours in a night match on Rod Laver Arena.
Federer has unheralded Hungarian and one-time training partner Marton Fucsovics up next and a potential quarter-final with Tomas Berdych, who upset Juan Martin Del Porto in straight sets earlier Saturday.
Federer, rated the favourite to win his 20th major even at the venerable age of 36, progressed to the fourth round at the Australian Open for the 16th time.
The Swiss have only lost twice to the stylish Frenchman in their 19 meetings, winning all their four Grand Slam encounters.
Significantly, Gasquet hasn't won a set against Federer since 2011, a run of 22 sets to the Swiss.
"I was able to stay more on the offensive than he was and maybe I was protecting my own serve better than him," Federer said.
"I was hoping I could play at that level. I'm very happy that I was able to rise to a level that I needed to beat Richard.
"It was tough. The score shows it, as well. I could have done it maybe a bit faster.
"At the same time, I'm happy to have done it the way it happened. I was pleased. I think I had some good shots. I was happy the way I played. I also thought we both played a good level again, so it was fun."
Federer, who did not face a break point in 26 games, lost his only serve in the match late in the third set on his second break point, such was his dominance.
"I like to see the way he saved match point. The first one was a backhand down the line," Federer said of Gasquet late resistance.
"Feels like he can do that in his sleep. I admire that. I take pleasure out of him making that shot even though for a second I thought that this could have been the match point I had and end up losing the match."
The Swiss legend broke Gasquet's serve five times and hit 42 winners with 30 unforced errors.
He improved his Australian Open record to 90-13.
Federer is coming off an extraordinary 2017, when he won a fifth Australian Open title and a record eighth at Wimbledon, after returning from an injury lay-off.
It was in Melbourne a year ago where he lit the fuse on his late-life tennis renaissance, beating Berdych, Kei Nishikori, Mischa Zverev and Stan Wawrinka before downing great rival Rafael Nadal in a five-set final classic.
AFP