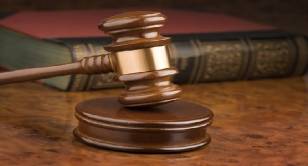 The Federal High Court in Port Harcourt has granted bail to 23 officials of the Independent National Electoral Commission accused of taking bribes to compromise the outcome of the rerun elections in Rivers State.
All 23 officials were granted bail on Friday after they were arraigned before the court on 10 counts bordering on corrupt practices allegedly committed in the course of their duties as INEC officials during the December 10, 2016, re-run elections in Rivers.
They, however, pleaded not guilty to all 10 counts after which the court considered and granted their motion for bail.
Each of the defendants was granted bail in the sum of N10 million with two sureties each in like sum.
Other conditions of the bail include that one of the two sureties must be a civil servant not below level 14 who must present a letter from his employer authorising him to stand as surety. The surety must also present both his appointment and promotion letters to the court.
The second surety must have a landed property worth not less than N10 million within Port Harcourt. He must deposit the original title documents to the court until the conclusion of the case and show evidence of tax payment for three years.
Also, as part of the bail conditions, the addresses of the sureties must be verified by both the court and the prosecution, while the defendants must write undertakings not to jump bail.
The officials were, however, remanded in prison pending when they meet the bail conditions and the case was adjourned to October 12 for the commencement of trial and hearing of pending applications.
The police had initially filed the case against the INEC officials at a Federal High Court in Abuja.
But counsel for the defendants had argued that their trial at the Federal High Court in Abuja was in breach of the Constitution and the Criminal Justice Act as the offences for which they were being tried was committed in Rivers.
The police on their part argued that there was insecurity in Rivers which could jeopardise their trial.
After hearing their arguments on May 15, 2017, Justice John Tsoho of the Federal High Court Abuja, transferred the case to Port Harcourt, saying the argument of the police that the insecurity in Rivers State would affect the trial was not tenable.
"I haven't found out that Rivers State has become ungovernable based on the alleged security situation in the state. So, based on Section 22 of the Federal High Court Act, the case has been transferred to the Port Harcourt division of the Federal High Court," Justice Tsoho had ruled.