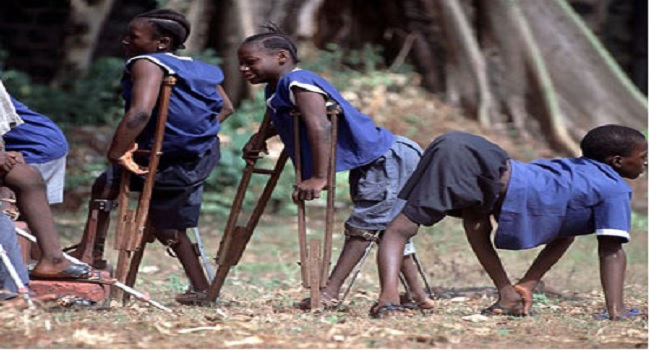 In spite of security challenges Borno State is battling with, there are indications that polio has been kicked out of the state.
Borno, ranked among the 11 high risk states in northern Nigeria, recorded its last case in the year 2013.
Officials attributed the success story to constant immunisation programmes across the state.
Over the years, young Nigerians crippled by polio have found themselves dealing with the negligence of their parents.
The common practice in Maiduguri, Borno State capital, like most northern states, is for polio survivors, who are usually from poor homes to hit the streets every other day begging for alms.
Faced with the sad reality of a bleak future, the polio survivors now engage in peer education and advocacy promoting Immunisation.
Community leaders have also been actively engaged in the campaign for the need for their subjects to embrace polio immunisation.
They understand the danger of not immunising kids and now, all suspicion and ill will towards the vaccine, has diminished.
Executive Director of the state Primary Health Care Development Agency, Dr. Sule Meleh, said that the converging of Internally Displaced Persons in the state capital, had offered an opportunity for health workers to reach out to more kids.
The Rotary Club has been on the forefront of the anti-polio campaign. Officials are proud of Borno State's achievements.
The periodic house to house vaccination, which kicked off last Saturday, ended on Wednesday.
But the vaccination and campaign has by no means ended with the kids themselves cooperative and excited to be polio free.