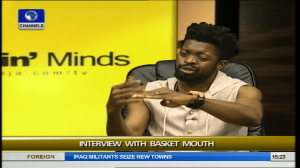 Nigerian comedian, Bright Okpocha, popularly known as Basketmouth on Sunday expressed gratitude to the rape joke he shared on his Facebook page which brought about so much criticism from female and male fans as it helped sell out his show in London.
Basketmouth however noted that "if I had said the joke on stage, it would have been more receptive" and added that "I am happy that controversy came out, it helped me sell my tickets.
"My show was sold out big time", he said revealing that it prompted the sale of standing tickets at a higher price than the regular tickets.
He explained that those who bought the standing tickets paid 75 pounds sterling while the regular ticket of the show sold for 25 pounds sterling "because of the controversy".
He further noted that the controversy prompted an article on the "London Guardian" where he was "compared me with Jimmy Carr". He also added that "I am looking for another controversy but definitely that one".
Despite apologising earlier for the joke, the award-winning comedian once again apologised to those who felt offended by the joke and promised not to say the word again "because I have learnt my lesson and I am not going to go through that part ever again".
He however noted that comedians also joke about imbeciles and poor people who hardly have food on their tables, insisting that "if you want to go through that angle, it means there shouldn't be any joke that should be said" and made comparisons with the western world where "there are no limits" adding that "there shouldn't be any limit to a joke".
Basketmouth, who was speaking on Channels Television's youth talk show, Rubbin' Minds, also praised some upcoming rib crackers and urged them to "never want to be like somebody" because that will limit the level they can attain in the rib cracking industry.
He also spoke about his career and explained why he went low for four years after nine years of his Basketmouth Uncensored Show.
"I went on the low with it and came back with a new style, new delivery and I have been touring. I have been to South Africa, Ghana, UK and I will be in the United States next month" insisting that "I am just trying to celebrate comedy; celebrating the talent God blessed me with" he said.
He also gave a hint on how he intends to be organising his next show in Nigeria, which comes up on the 29th of June at the Eko Hotel, noting that the sitting arrangement " is going to be a theatre style" where "no big man" will be given preferential treatment.
This according to Abia-born comedian "is the same way it is done abroad".