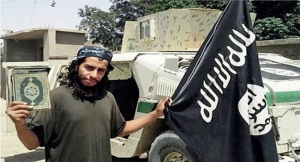 Paris prosecutor says the suspected ringleader of the Paris attacks, Abdelhamid Abaaoud, has been identified as one of those killed in a raid in Saint Denis.
His body was found riddled with bullets and shrapnel in an apartment in the northern Paris suburb on Wednesday.
The 27-year-old Belgian national, was identified from his fingerprints.
The fate of Abdelhamid Abaaoud was earlier unknown after Paris prosecutor, Francois Molins, revealed that the suspect was not among the eight people arrested during the raid in the Paris suburb of Saint Denis.
President Francois Hollande declared the state of emergency for 12 days, after gunmen and suicide bombers targeted a concert hall, cafes and the Stade de France on Friday last week.
The attack claimed a total of 129 lives, leaving many others in critical conditions.
Meanwhile, French Prime Minister, Manuel Valls, has said that the country could face chemical or biological attack from terror groups.