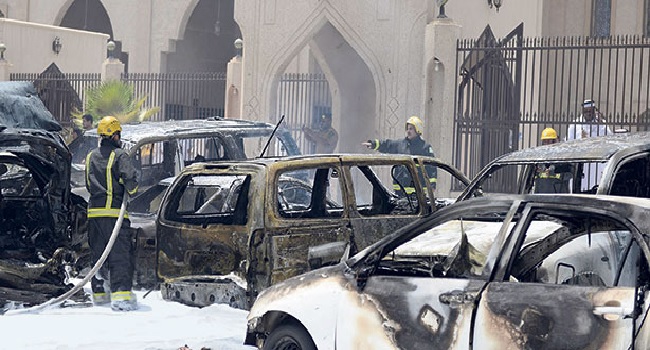 The Islamic State in Iraq and the Levant (ISIL), has claimed responsibility for a suicide attack on a mosque in southwest Saudi Arabia that killed at least 15 people, the group said in a statement on Thursday.
One of its fighters wearing an explosive belt triggered the blast, the ISIL statement said.
The blast, which was triggered by a suicide bomber, killed 15 people at a mosque inside a Special Forces headquarters in Saudi Arabia near the border with Yemen.
The Interior Ministry said in a statement that 10 of those killed were members of the country's security forces.
The Interior Ministry spokesman, Major General Mansour al-Turki, said on Thursday that the "terrorist" attack took place during noon prayers in the city of Abha, in the southern province of Asir.
Mr al-Takur said that nine other people were wounded in the attack, three of them seriously.
He further said that the bomb targeted police trainees as they were in the middle of prayer.
Twelve of those killed were members of a Special Weapons and Tactics (SWAT) unit, while the other three were workers at the compound, officials said.
ISIL's local affiliate had claimed responsibility for a number of attacks in recent months, including various deadly shootings and smaller attacks against police at checkpoints in the capital, Riyadh.
Thursday's attack was the deadliest against Saudi security forces since ISIL attacks began in the kingdom in 2014.
In November, a gunman opened fire at a mosque in the eastern Saudi village of al-Ahsa, killing eight.
A suicide bomber that struck a Shia mosque in the eastern village of Qudeeh in May killed 22 people. That was the deadliest such assault in Saudi Arabia in more than a decade. A week later, a suicide bombing outside another eastern Shia mosque left four people dead.
Saudi authorities in July, announced the arrest of more than 400 suspects in an anti-terrorism sweep.
They said that they thwarted other ISIL attacks being plotted in the oil-rich kingdom, including a suicide bomb plot targeting a large mosque in eastern Saudi Arabia that could hold 3,000 worshippers and attempts to attack other mosques, diplomatic missions and security bodies.
Saudi Arabia is leading a coalition targeting Iran-allied Shia rebels in neighbouring Yemen, not far from Abha. The rebels had carried out a number of cross-border attacks against military targets.