A Security Analyst, Ona Ekhomu, says that efforts need to be put in place in the fight against terrorism because "some leaders in the Northern part of the country have come to realize that Boko Haram is a grave threat to the nation" and previously the leaders of the north didn't know that it was a big challenge to the society.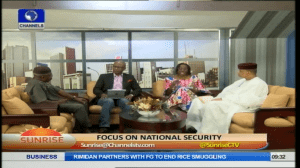 Painting a scenario, he said that the issue is "like using a wrong drug to treat a particular illness or defining the wrong problem entirely" and policy makers have a misinterpretation of the happenings in the north and said until these issues are identified the insurgency will remain.
On Channels Television Saturday breakfast programme, Sunrise, another security expert, Patrick Keku said that the northern leaders have identified their mistakes and stated that if all join hands together, the Boko Haram issue will be a past thing.
Mr. Ekhomu noted that these terrorists don't go into hiding when they want to attack, and explains how they can be curbed.
On logistics, Mr. Ekhomu stated that if the government can put 60-70 vehicles full of armed soldiers on the road during an attack , it will curtail attacks by the insurgents.
He also explained that there should be checks in bushes and on high ways, stating that where there is more concentration on the high way, these insurgents could make their way into the bush and hide.
Both security experts advised that our security should be "re-architectured" for better performance.