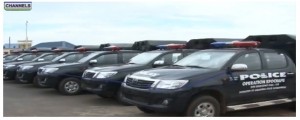 The Anambra State governor has distributed 25 security vehicles to the Joint Security Operation, code named "Operation Nkpochapu", in the state to boost security operations.
The development is a clear resolve of Anambra State government to support in the fight against crime and criminality towards achieving a crime free state.
At Aguleri, Anambra East Local Government Area of the Anambra State on Tuesday, the state governor, Willie Obiano, presented the brand new security vehicles to the Police, Army, State Security Service and the National Drug Law Enforcement Agency (NDLEA).
He told  the security personnel that the vehicles were the first of 200 security vehicles his administration would procure for the security agencies to empower them totally in order to sustain the tempo of the fight against criminal elements in the state.
The vehicles are to be used in strategic places for quick response to distress calls and daily patrol of all parts of the state.
Fifteen of the vehicles would go to the Police, three for the Army, two for the State Security Service and one each for Nigeria Navy and NDLEA.
Governor Obiano also assured the Navy that the government would procure a gun boat and repair all grounded gunboats belonging to the Navy and NDLEA to assist them in securing the water ways effectively.
The governor maintained that the war declared on criminals would be sustained as there would be no retreat.
The vehicles were launched and distributed. The state Commissioner of Police and leader of the State Joint Security Operation, Usman Gwary, responding on behalf of the other service chiefs, assured indigenes of their commitment to the course for which they were called.
Commenting on the development in security operations in the state, Chris Azubogu of the House of Representatives, Victor Okoye of the State House of Assembly and Obinna Emenaka, also of the State House of Assembly, who were present, commended the initiative of the State government to take seriously the issue of security, legitimately, as never before in the history of the state since creation.
The ceremony was witnessed by members of the State Executive Council, Service Chiefs and Traditional rulers.